Christmas in the Territorial Capital – 30 Christmas trees greet visitors at the former Lane U.
Story and photos by Clarke Davis
The Territorial Capital Museum in Lecompton is prepared for visitors this Christmas season with 30 Christmas trees on display.
The tree at the main entrance contains mostly antique decorations that hark back to a much different era.
Iona Spencer, 90, Lecompton, donated the candleholders that contain weights, which helped keep the candle standing straight and spread the branches to help prevent them from catching fire.
There was a day before electricity when candles were used to light the Christmas tree. However, it was only lighted for a short time for the enjoyment of the children before the candles were extinguished—and there were men standing by with buckets of water just in case the tree caught fire.
That's just one story visitors will hear when taking a tour of the three-story museum.
On the top story is a 15-foot native tree, the only live one, located in what served as the chapel when the building was Lane University. Large banners declare "Free State Party" and "Pro-Slavery Party" because the stage doubles as the location for the "Bleeding Kansas Characters" series by re-enactors who bring to life the strife leading up to the Civil War.
The museum is owned and operated by the Lecompton Historical Society, a 1,000-member organization headed by President Paul Bahnmaier. Vicki Leochner is the tour guide. Helping with most of the Christmas preparations were Elise Middleton, curator, and Deb Powell, a director.
They give credit to numerous members who donate a significant amount of items each year to make the display special.
The tree with the candleholders is also decorated with painted okra and gourds, glass beads, and decorations made of clothespins and pipe cleaners. People a hundred years ago used buttons, egg cartons and any number of common everyday things to make their tree special.
Many of the other trees have a theme. There's a Kansas State University tree with purple wildcats next to a red and blue colored tree with Jayhawks. Bill Sayler, Lecompton, loaned an ornament ordered from a Sears catalog in the 1940s. It's unique because there was a metal shortage during the war and the ornament has a cardboard hanger.
There's an angel tree and a 1960s tree with bubble lights. There's a red, white and blue patriotic tree, a Santa Claus tree and one with birds. Spent shotguns shells decorate one tree with birds and owls made of various feathers.
There's a display of Christmas cards on loan from Bill Sayler. These have silk fringe and were printed by Raphael Tuck & Sons of London, who moved to New York. They were given recognition by Queen Victoria in the 1890s and had the distinction of being the Art Printers to the Queen. There are hand-painted cards on loan from Nadine Litton, a member living in Georgia.
One tree upstairs has antique toys beneath it that belong to society members. They include a Ferris wheel, rocking horse, doll, an iron carriage pulled by horses and others to jog memories.
The chapel will be the setting for the annual Christmas vespers at 2 p.m. Sunday, Dec. 8. The program will feature the choir and brass ensemble from Perry-Lecompton High School along with a harpist and piano solo. The chapel also houses an 1857 rosewood melodeon.
Regular museum hours are 11 a.m. to 4 p.m. Wednesday through Saturday and 1 to 5 p.m. Sunday. Tour information is available by calling 785-887-6285.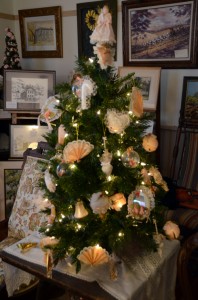 Short URL: http://www.jeffcountynews.com/?p=14804
Posted by
Davis Publications
on Dec 9 2013. Filed under
County News
. You can follow any responses to this entry through the
RSS 2.0
. Both comments and pings are currently closed.