Horses, covered wagons draw attention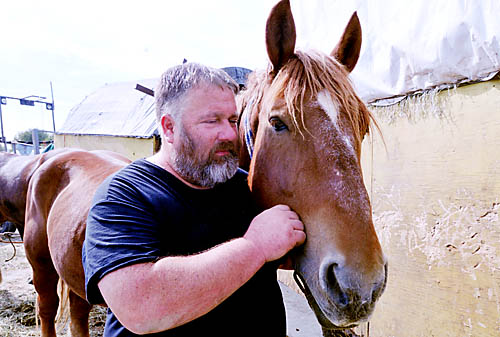 Lee the Horselogger camped in Meriden last week and spent the weekend at Valley Falls as he works his way north and east to another logging job.
Story and photo by Clarke Davis
Lee the Horselogger is making his way across the United States by horse and covered wagon — for the third time in six years.
The Montana native moves across the country from one logging job to another. He has just left Oklahoma and is headed for a job in Illinois.
He looks for logging jobs where there is timber and a sawmill.
He travels with five Suffolk horses, which, when they are not pulling his two wagons down the road, are pulling logs out of the forest.
He spent two days last week in Meriden and pulled into Valley Falls Friday night. Normally, he said he travels three days straight and then rests one day. He can travel at least 20 miles in a day through the Midwest. Traveling through the Rockies or manuvering through the Appalachians is a different story, he said.
Finding a friendly place to camp each night along with feed and water for the horses has never been a problem, he said, noting that people are friendly and inviting throughout the country.
He does accept donations of money and hay along the way, stating it costs about $65 a day for the feed and upkeep on the horses.
He was on his way north to meet with US-36 highway and then head east. He travels on the hard surfaced roads and has a rubber sock on the horses' hooves to protect them from too much wear. They are not shod.
He likes to travel with three teams, the number of horses needed to pull the wagons which weigh between 10,000 and 15,000 pounds. He's one horse shy of that now and has not been able to afford to replace one he lost.
He calls them by name — Fred, Alice, Tom, Fey, and Dink — and uses voice commands to order them around. "I can't stand it when a driver uses a whip," he said.
He and the horses have been through the greatest extremes when it comes to weather. "It's ranged from 36 below zero one winter to 115 degrees this summer in Oklahoma. We missed a tornado by 18 miles, also," he said.
The 51-year-old man said he has never held any other job except logging, but has spent considerable time at universities.
"I have enough hours for a graduate degree but I've never taken courses for degrees, but rather to learn and think," he said.
"The purpose of a liberal arts education is to make you think," he said. However, he fears a true liberal arts education is almost a thing of the past as schools become more vocational oriented toward jobs "and the buck."
Short URL: http://www.jeffcountynews.com/?p=14164
Posted by
Davis Publications
on Oct 27 2012. Filed under
Featured
,
The Vindicator
. You can follow any responses to this entry through the
RSS 2.0
. Both comments and pings are currently closed.