Jefferson County Fair opens Tuesday in Valley Falls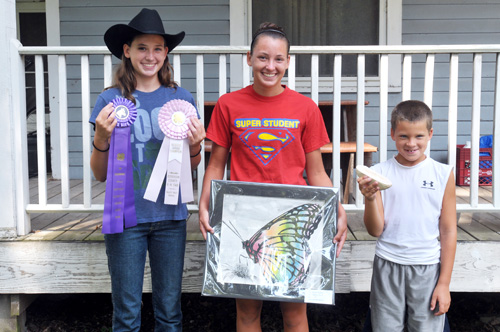 Justine, Jessie, and John Frakes show off their projects that will be presented at the 4-H fair in Valley Falls.
Frakes' siblings ready for the fair
Story and photo by Holly Davis
The Frakes' household in Valley Falls is crazy-busy all the time, says mother of four, Jeanie Frakes, but as her kids are getting prepared for fair time, the busyness seems amped. Three of her kids are in the Valley Victors 4-H club and will be presenting either animals or arts and crafts at the fair this year. The fair will take place the first week of August at the fairgrounds in Valley Falls.
For John Frakes, 7, this is his first year in 4-H. He will be taking an arts and crafts project that he carved out of wood. He got the idea after attending history day at school and saw a man who had a booth with a variety of carvings. He really liked the bear and the horse models that the man did, but he decided he would take the easier route by making a canoe and paddles. His favorite part about being in 4-H is going to the meetings where they bang the gavel on the table. He hopes to someday take goats as a project, but admits that he will need a lot of practice. Who knows; he might even get to bang the gavel at a future meeting.
Justine, 14, was the first Frakes sibling to join 4-H three years ago when she took an interest in horses. "My horse is a people horse and I'm a horse person so we click," she said. Because she didn't do sports like everyone else, she says that 4-H became her niche. She and her quarterhorse, CiCi, go to practice every Tuesday during the summer in Atchison. There, Justine trains her horse for the fair where they will be judged on Western horsemanship and Western pleasure. "I like the fair because they have a fun show and it gives me practice (with the horse). It has also got me to meet other people," Justine said.
Jessie, 16, joined Valley Victors two years ago. She will be taking arts and crafts projects and a meat goat. Her art projects consist of a cupcakes painting inspired by artist Wayne Thiebaud, a colored pencil butterfly, and a mixed media basketball picture. She created her projects during art class at school the past year and feels that being in the class has helped her a lot. As for her goat, she trains it every day by walking it on a chain. At first, she says it's hard to get the goats to cooperate because they aren't used to the leash and try to run away or flip, but she enjoys both projects equally. Jessie likes 4-H because it has given her opportunities for community service hours and she likes helping out. "It's fun because I like doing things with my hands," Jessie said, "It's nice to start things and then get to see them finished."
Rachel, 12, is no longer in 4-H because her schedule got too busy with sports and other activities, but she enjoyed the club while she was in it.
"It's their choice," Jeanie said, "They're really in charge of their own stuff and are pretty responsible. They like doing it and we get to meet the nicest people who are so helpful. I also really like that everyone can find their own thing. I mean, who knew that John would become a master carver?" she laughed.
Short URL: http://www.jeffcountynews.com/?p=13969
Posted by
Davis Publications
on Aug 4 2012. Filed under
Uncategorized
. You can follow any responses to this entry through the
RSS 2.0
. Both comments and pings are currently closed.