4-Her's get ready as fair time approaches in Jefferson County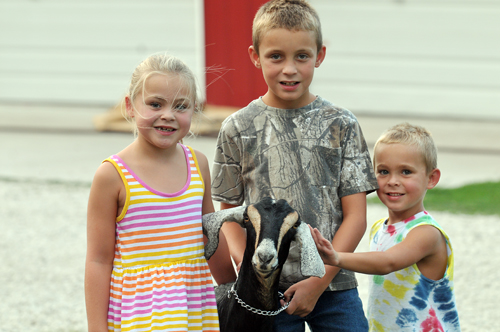 Siblings Sammi, Dallas, and Colby Clark, Valley Falls, smile with their dairy goat, Princess Sophia. Dallas will be showing Miss Sophia at the upcoming 4-H fair.
Story and photo by Holly Davis
The Clark family, Valley Falls, keeps busy with the many 4-H projects their children are involved with.
The fair opens Tuesday in Valley Falls.
Dallas Clark, 9, is a third-year Valley Victors 4-H member. This year, he is involved in categories of swine, meat and dairy goat, poultry, rabbit, electrical, horticulture, food preservation, and arts and crafts.
His favorite activity is working with the animals because of the interaction. Not to mention that he gets to sell the animals afterward and make a little money.
He says that the hardest part is leading the goats and getting them to cooperate; he also finds it hard holding onto anxious ducks.
Dallas enjoys being a member of 4-H because "you get to make things and do fun things," he said.
Sammi Clark, 7, started Cloverbuds this year and can't wait to have a bigger part in the fair. She loves helping her older brother with the goats and rabbits and hopes to someday take them as a project.
By happenstance, triplet goats were born on Sammi's birthday not long ago: two girls and a boy. They were named Samantha, Ann, and Clark after the birthday girl of course. Ann, a meat goat, will be shown at the fair by Dallas, but maybe someday she will be able to take the lead.
Sammi is still undecided on what her project will be this year, but she has it narrowed down to either tie-dyeing a shirt or canning food with her grandma, Sid.
Colby Clark, 5, isn't quite old enough to be a 4-H member, but he helps out and loves going to the fair. His favorite part about fair time is eating yummy snow cones and riding the pedal tractors. He plans to join Cloverbuds next year and when he gets old enough, he wants to take rabbits and goats as a project.
"I wanna do anything Dallas does," he confirmed.
The Clark farm consists of goats, rabbits, chickens, pigeons, and ducks, all of which will be taken to the fair. Out of their herd, 11 goats will be presented at the fair by Dallas as well as others who they have sold to.
Dad, Cody Clark, has a big part in helping with getting the animals prepared for fair, and mom, Jesica Clark, Cloverbud leader, helps out with all the rest.
Jesica says that 4-H teaches the kids leadership, pride, and life skills in a fun and exciting way. "It's so fun to see them get rewarded for their hard work," she said.
The whole family anticipates this time of the year and can't wait to show off their hard work.
Short URL: http://www.jeffcountynews.com/?p=13846
Posted by
Davis Publications
on Aug 2 2012. Filed under
Valley Falls
. You can follow any responses to this entry through the
RSS 2.0
. Both comments and pings are currently closed.