Wellness center opens on Perry Plaza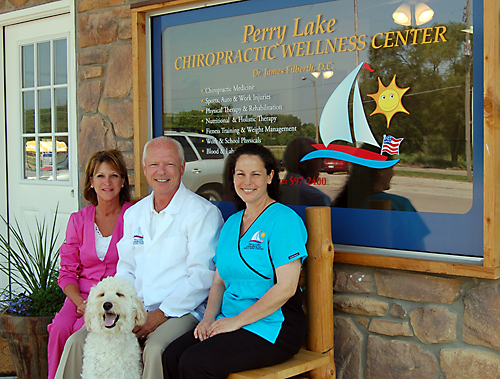 Dr. James Filberth, D.C., with his wife, Janet Sue Filberth, who serves as office manager, and Stacie Madden, massage therapist, with Forrest, the office golden doodle.
Story and photo by Carolyn Kaberline
When Dr. James Filberth, D.C., moved to Jefferson County with his wife after selling his Kansas City practice, he really wasn't planning on starting another office. However, with the recent opening of the Perry Lake Chiropractic Wellness Center, it's obvious he's had a change of plans.
"We enjoyed sailing at Perry Yacht Club and so we bought a home in Hickory Acres," Filberth said. "My wife decided she didn't want to go back to Kansas City. I soon started thinking that I was still young and had a lot of energy. I also found my practice was still fun and there were a lot of rewards that went with it."
With that in mind, it wasn't long before Filberth found the perfect location for his new office: The former veterinary clinic in Perry Plaza which has since undergone extensive remodeling.
After stripping it down to the concrete walls and metal beams, two separate treatment rooms with state of the art decompression tables for chiropractic adjustments were created along with rooms for exams and consultations, massage therapy, and rehabilitation. There's also a reception area with a new computer system for record keeping as well as a laboratory for diagnostic testing such as drawing blood and food allergy testing. Finally, full spectrum fluorescent lighting was added and new paint was applied. The result of all this is an up-to-date facility with a warm comfortable feeling.
"Except for the glass windows, everything was done locally," Filberth said, adding that those working on the clinic "went out of their way to do the work," even coming in on the evenings and weekends to complete it.
Filberth brings more than 30 years of experience to his new practice. After earning an undergraduate degree in human biology and nutrition, Filberth completed a doctorate degree in chiropractic medicine at the National University of Health Sciences in Lombard, Ill. After completing a one year internship and three years of family practice training at the National Patient Research Center, he became a Board Eligible Chiropractic Internist. Before coming to Perry, Filberth practiced in Illinois and Kansas City.
In addition to his chiropractic work, Filberth is also certified in acupuncture, nutrition and family practice. He plans to write a monthly column and hopes to offer classes that promote a healthy lifestyle such as healthy cooking and how to manage one's blood sugar without depriving one's self.
"We also hope to attract people who want better cardio-vascular health," Filberth said, adding that they will be able to help those who have been injured and others with "whatever we can in our line of work."
The Perry Lake Chiropractic Wellness Center also offers an extensive natural pharmacy with a variety of nutritional supplements and nutraceuticals.
"There are many natural supplements out there than can help with diabetes, high cholesterol, fibromyalgia, arthritis and osteoporosis," Filberth noted.
Helping Filberth at the Wellness Center are his wife, Janet Sue, a registered nurse who will manage the office, and Stacie Madden, who will provide massage therapy. Also on hand is Forrest, a golden doodle, who is being trained to be a service dog for hospice care.
Currently the Perry Lake Chiropractic Wellness Center, located in Perry Plaza at 603 Cedar Street, is open Mondays, Wednesdays and Fridays from 8 a.m. to 6 p.m. and also on Saturdays from 9 a.m. to noon. More information can be obtained by calling (785) 597-2400.
Short URL: http://www.jeffcountynews.com/?p=13702
Posted by
Davis Publications
on Jul 18 2012. Filed under
Business
,
Featured
. You can follow any responses to this entry through the
RSS 2.0
. Both comments and pings are currently closed.