Retired teacher, cattleman seeking state senate seat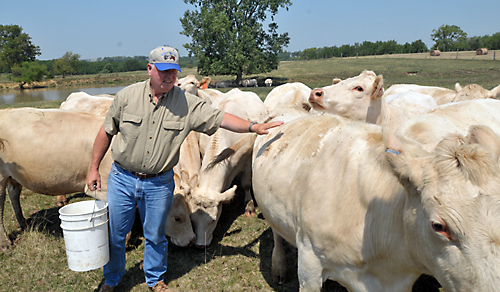 "I'm running now because I don't want to turn 70 in 10 years and be saying, 'I wish I would have done that,' " Ron Ellis said on his decision to run for state senate seat.
Story and photo by Clarke Davis
Ron Ellis has his definition of conservative.
"I thought it was a common sense thing — whatever makes sense and is practical was being conservative," Ellis said.
But the 2nd District Senate candidate is finding out there's an extreme element in the party that thinks differently.
"Compromise is not in their vocabulary," he said in an interview last week. "I'm conservative but I'm not an idealogue."
If elected, would he cross the aisle to talk with the oppostion?
"I'd pay for it, but I'd do it. It's the only way to properly govern," he said.
He did not define the extremists he has met as Tea Party members, noting that in his conversations with some of these people he has found reason and common ground. He compared the most radical element to a slogan used in the 1890s when some preferred to "burn the barn down to get rid of the rats."
The candidate sees the recent court redistricting as a breakdown in legislative responsibility where that branch of government abrogated its responsibility.
"There's plenty of blame for everybody [at the state level]. It's not just one group. Let's try civility and get back to working together," he said.
An American history major, he had plenty of references down through the ages, ranging from one of the most uncivil campaigns when Andrew Jackson ran in the 1820s to the Populist movement of the 1890s.
Ellis, 59, has walked side by side with other Repubican candidates for years, helping hand out campaign cards and aiding them with his support. He's been a party loyalist and now, retired from a 37-year teaching career at Oskaloosa, he's stepping out on his own in an attempt to gain a legislative seat. Charles Stutesman, Valley Falls mayor, is his Jefferson County campaign chairman and Pam Jones, Ozawkie, is his treasurer.
He's running in the new 2nd District which contains all of Jefferson County (except Kaw Township), Lecompton, and a large portion of the city of Lawrence. The Lawrence section is bordered on the east and west by Highways 10 and 59 and runs as far south as 23rd Street.
Jefferson County has about 25 percent of the voters and Douglas County has 75 percent. Ellis' primary opponent is Jeremy Pierce, Lawrence, and the current senator is Democrat Marci Francisco, a veteran legislator and former mayor of Lawrence.
He said the Lawrence vote is pretty evenly divided between registered Republicans and Democrats with 24,000 each. The Independents number 83,000.
Ellis is running on a pro-jobs platform and would like to see some tax reform if done carefully.
"Lawrence is a great city but the people there are weary of taxes," he said.
Addressing specifics he said there should be some property tax help for those who fix up old business buildings and get them back to being useful. He suggested a delay in increasing the property taxes for at least five years. He would also like to see a consumption tax slowly phased in to lower income taxes.
He has come from the field of education that has been hit by numerous cuts in funding since 2008. According to his figures, schools were being funded at the rate of $4,433 a student and that was eventually bottomed out at $3780. The Legislature put $58 back this year after a total cut of $633 per student.
"I come from the field of education and support restoring those funds to the schools when possible," he said. "I believe those cuts were necessary at the time but now we need to fully fund the schools."
He added that he would like school districts to be more transparent in where the money goes. For instance, he would not like to see cuts to the classroom yet it's often confusing when trying to find out what it costs for sports programs and other aspects of the educational system.
The Oskaloosa community honored Ellis as one of the grand marshals in the Old Settlers' parade in June upon his retirement from teaching.
"That was the first job I took right out of Emporia State University. I taught my whole career there," he said. "Some of my former students are almost 50 years old now and I've been teaching the second generation."
Ellis holds a master's degree in history and taught junior high students. He also coached basketball and football for over 20 years and track for over 25 years. He has coached knowledge bowl since 1988 and saw his students bring home 19 league championships.
As part of his history lesson, he invited Civil War re-enactors to join him to replay the Battle of Hickory Point at Old Jefferson Town in 2000, 2005, and again last year.
During his tenure at Oskaloosa he served as a junior high assistant principal five years, junior high athletic director six years, and added a high school government class to his role for five years. He also taught Highland Community College classes for eight semesters.
Ellis is a Greenwood County native who attended Neosho County Junior College before going to Emporia. He grew up on a cattle farm and held memberships in 4-H and FFA. His father was a truck driver hauling cattle and his mother worked in the school cafeteria.
Besides working on the farm, he also helped his mother at the school where he peeled a lot of potatoes. "They really cooked school meals in those days," he said.
"It seems odd but this will be the first year I haven't been in a classroom since I was 6 years old and in the first grade," he said.
Ellis married a fifth-generation Oskaloosa native, Paula Newell. A graduate of the University of Kansas, she was interning at a Bemidji, Minn., hospital last week working to complete her doctorate in nursing.
The couple lived 10 years in Lakewood Hills Subdivision and then acquired a home and pastureland a short distance northeast of Meriden where he raises registered Charolais cattle. They have two other farms in Jefferson County, all grassland.
Ellis said he will work hard at his campaign and has a number of helpers who will work on his behalf. As for his treasury, it's mostly empty and he's learning quickly how much it costs to get things printed and mailed and get one's word out to the voters.
"I'm running now because I don't want to turn 70 in 10 years and be saying, 'I wish I would have done that,' " he said.
Short URL: http://www.jeffcountynews.com/?p=13536
Posted by
Davis Publications
on Jul 15 2012. Filed under
Featured
,
Government
,
State
,
The Vindicator
. You can follow any responses to this entry through the
RSS 2.0
. Both comments and pings are currently closed.