McHardie spent 27 years devoted to taking care of Perry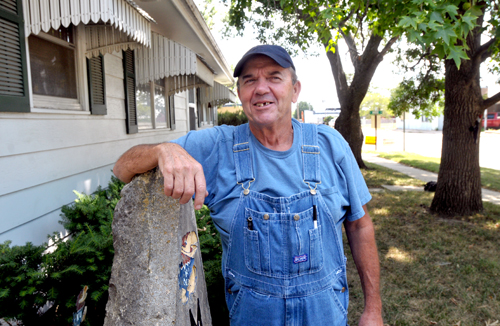 Photo by Clarke Davis
Pete McHardie was home last week listing some jobs around the house and starting to adjust to retirement after 27 years of employment with the city of Perry.
by Clarke Davis
Pete McHardie is off the job. He ended a 27-year career as the city of Perry's maintenance man July 1.
For almost three decades he cleared the streets of snow, fixed the water line breaks, unclogged the sewer lines, read the water meters, and responded to citizens' problems.
For most of those years his wife, Linda, was his helper. He never took a vacation.
"I just knew if I drove out of town something would happen," he said. "Besides that, the vacation pay helped get new clothes for the kids to go to school and pay the enrollment fees."
Pete had been a warehouse supervisor and was employed by the Hills company in Topeka when former Perry Mayor Jim Abel asked him to consider coming to work for the city.
"I talked to my boss, who told me to give it a try and if it didn't work out my old job would be waiting for me," he said.
McHardie said he didn't know what he was getting into but the former maintenance man, Floyd Swafford, was helpful the first summer in showing him the ropes.
He remembers taking the backhoe out on city property near the sewer lagoons and digging a trench and filling it in.
"Then I moved it over and dug another trench and filled it in. Pretty soon I felt comfortable at operating it," he said.
In all those years, he had only three bosses. Mayor Abel hired him and then the late Matt Willkomm was mayor for 16 years followed by the current Mike Lang.
They were all great to work for, McHardie said, and he is particularly proud that no city resident ever called on the council to complain that he failed to respond to their problem.
Linda was his helper for many years in reading the 400 water meters every month. Pete would go from meter to meter and call out the numbers, which Linda would record as she drove alongside in the street. Even she taught Pete a lesson or two.
"You know how a person might be out of sorts on any given day?" he asked. "Well this one time I wasn't being very nice to Linda and I said the wrong thing."
The next time he called out a meter reading there was no response and when he looked around she was gone. She had driven home and left him.
Needless to say, Pete went home and did some apologizing and patched things up.
"That only happened once," Linda said.
Pete needed Linda often when there were such things as water line breaks. He would need a truck and a backhoe and it took her to drive the truck.
"I'd bring her back home and then go fix the leak," he said.
The city did compensate Linda for some of her help, especially in reading the meters.
Weather often spoiled the holidays and fresh in his memory was a snowstorm that came on Christmas Eve and put him out clearing streets most of that holiday and then it hit again on New Year's Eve.
"But I knew that when I took the job," he said.
No episodes tested him and the entire city more than the flood year of 1993.
"Those were 18-hour days and two-thirds of the town was gone," he said. "We bagged 428 tons of sand to protect what we could. The city never lost services."
The years of his tenure have been progressive ones for the city of Perry. All of the streets have been paved, the old 50,000-gallon water tower has been replaced by a 500,000-gallon aboveground storage tank, and a new shop has been built to get all the equipment inside.
The water system and lift stations are computerized and McHardie has schooled himself and has Class II water and wastewater certifications.
He recalls how the city worked to eliminate the politics over the streets. He suggested they get an engineering firm to assess all the streets, give them a grade, and put them on a five-year rotation plan.
"That way the public couldn't say a street was overlayed because it went by a councilman's house," he said.
"I believe we have been proactive instead of reactive in this town and we are real proud of our streets and the progress we've made," he said.
McHardie convinced the council that it needed to train someone new for his eventual retirement a few years back. The city hired Gene Dick, a Valley Falls native, part-time for awhile and then full-time about four years ago.
"We've got along great. It's been like peanut butter and jelly," McHardie said.
A Perry native, Pat Gottstein, has just been hired who will learn the system and be a backup for Dick.
McHardie's work ethic sprung from a childhood growing up in the Delaware River bottoms 2 1/2 miles north of old Ozawkie, the unincorporated village that was moved for the coming of Perry Lake. He was one of 11 children to grow up on that farm.
"I never had a childhood. We were expected to work," he said.
He recalled picking corn one winter using a flat-bottomed boat they pulled over the snow. They filled the boat shucking corn by hand.
The river flooded often, but Pete noted it was nature's way of depositing good soil on the land to produce abundant crops. He was six years old in 1951 when the big flood came.
"Our house was on a mound and I can remember looking out and seeing the entire valley flooded with water," he said.
Pete graduated from Meriden High School, spent three years in the Navy, and married Linda (nee Dunnaway) in 1969. They have always lived in Perry where they raised four children, Eric, Joanna, Penny, and Clay. They now have seven grandchildren.
McHardie's last few days of vacation time in late June were spent at the University of Kansas Hospital with Linda, who underwent surgery. It was a form of cancer in the early stages and they are celebrating the surgery's success.
Pete has some work around the house — "honey do jobs" — and then he will look for a part-time job.
He also plans to be a candidate for city council next spring. "I want to do my civic duty," he said.
Short URL: http://www.jeffcountynews.com/?p=13754
Posted by
Davis Publications
on Jul 23 2012. Filed under
Featured
,
The Vindicator
. You can follow any responses to this entry through the
RSS 2.0
. Both comments and pings are currently closed.