Grants improve District 11 fire equipment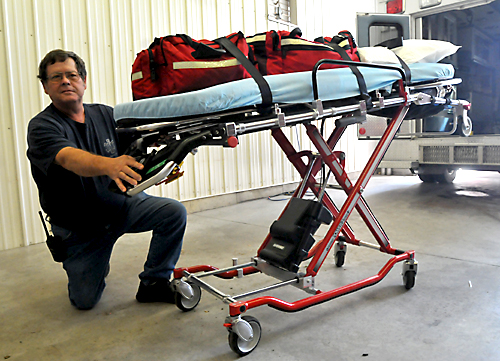 Emergency Medical Director John Gordon demonstrates how to operate a new power cot, one of two acquired by the District 11 EMS unit.
Story and photo by Clarke Davis
Recently acquired grants have provided new equipment for both the District 11 fire department and the emergency medical services.
Fire Chief John Gordon reports that a new high pressure pump for fighting grass fires has been received from a Kansas Forestry Department grant. The pump costs $4,500 with half being paid by District 11.
The Emergency Medical Services received a $24,000 grant with 90 percent coming from the Kansas Board of EMS through a state revolving grant fund.
The new equipment includes two power cots, a stair chair, and an extension used to widen a cot when necessary.
Gordon said the power cots have an electric pump that will lift 1,000 pounds and will be a critical aid at times when there are only two people on the emergency run.
The stair chair, he said, works on a track to get an accident victim or ill person up or down stairs when a cot cannot be used.
District 11 has experienced 118 ambulance calls during the first six months of the year and answered 65 fire calls.
"That's averaging a call every day," he said.
Gordon has not approved a fire permit for four weeks and does not intend to until there has been sufficient rain. He said the department had two calls in the country to extinguish grass fires over the July 4 holiday caused by fireworks.
Drought conditions have continued to intensify for Kansas, which led Gov. Sam Brownback to update the Drought Declaration for Kansas counties with an Executive Order. The update includes all 105 counties either in an emergency, warning or watch status.
The updated drought declaration has 36 counties in an emergency status, 55 counties in a warning status and 14 in watch status. Jefferson County is among those under a warning.
This action was recommended by Tracy Streeter, Valley Falls, Director of the Kansas Water Office and chairman of the Governor's Drought Response Team.
"Dry, windy and above normal temperatures in Kansas have led to a Drought Emergency declaration for 36 counties," Brownback said. "Below normal precipitation patterns are not only depleting available soil moisture, but these types of conditions have resulted in numerous fires as well."
"The insidious effects of the continued drought across much of the state have caused stream flow in many areas to drop below median levels," Streeter said. "It is imperative we monitor conditions for the state as they could deteriorate quickly with no reserves."
Short URL: http://www.jeffcountynews.com/?p=13664
Posted by
Davis Publications
on Jul 18 2012. Filed under
Featured
,
The Vindicator
. You can follow any responses to this entry through the
RSS 2.0
. Both comments and pings are currently closed.