Bold move by Old Settlers' Committee pays off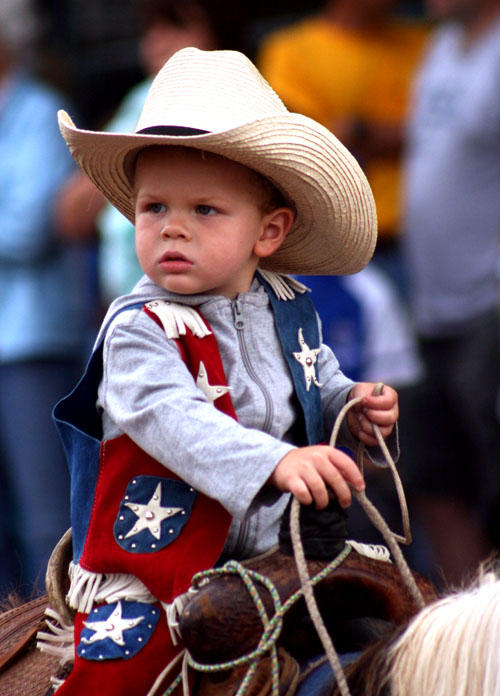 Stone Newell, 2, rides a pony through the children's parade during the Old Settlers' Reunion in Oskaloosa.
Story and photos by Dennis Sharkey
"Unbelievable."
That was the word that Old Settlers' Reunion committee chair Cathy Dailey used Saturday morning following the Friday night block party that featured the popular band Sellout from Lawrence.
"Everybody loved it," Dailey said.
Dailey said the east side of the Oskaloosa square still had between 500 and 600 people at midnight when the show finally ended. Also featured was a beer garden area in front of the stage for the first time with no problems. Dailey said the beer garden brought in nearly $2,000 of revenues before expenses.
Dailey said people were coming up to her all night saying things like, "It's finally normal again," or "The old Old Settlers' is back."
Committee co-chair Matt Miller said he had not seen an Old Settlers' Reunion crowd like Friday night since he was a small kid.
"The whole operation was a big risk and we didn't know what direction it would go," Miller said.
The committee spent more money on Sellout than they ever have before for an entertainment act.
Miller said the band was also a little apprehensive on how they would be received by the rural crowd. They were not sure that it would be the same as the crowds in Lawrence that they are used to.
"They loved it here," Miller said. "They love playing places like this."
Dailey said after the show the band booked themselves for next year's Old Settlers' Reunion.
"They're ready to come back," she said.
Dailey said the best thing about the band is that four generations of Oskaloosans were sometimes out on the street dancing together.
The band wasn't the only success from Friday night. Miller said the hay bale toss had a record number of female participants.
Miller said Thursday night was not as big a turnout as in past years. He said there was no musical entertainment which could have had an effect. That is one aspect they will look to improve next year.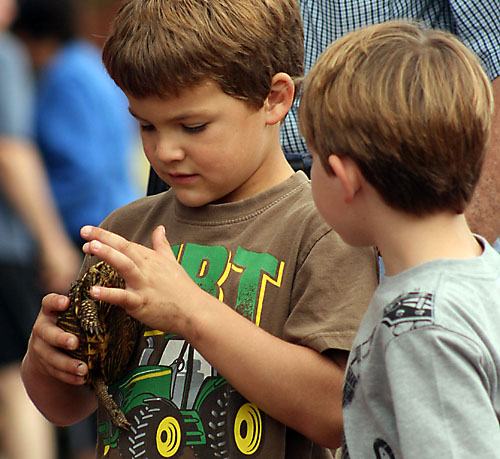 Colsen Perry, 5, left, and Wyatt Shay, 5, examine Perry's turtle after the turtle races.
Short URL: http://www.jeffcountynews.com/?p=13466
Posted by
Davis Publications
on Jul 4 2012. Filed under
Featured
,
Media
,
The Independent
. You can follow any responses to this entry through the
RSS 2.0
. Both comments and pings are currently closed.