Runners turn out to remember Justin Johnston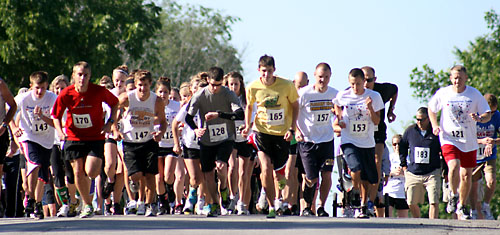 More than 80 runners took off shortly after 8:30 a.m. on Saturday, June 2, at the Remembering Justin 5K Run and One Mile Fun Run/Walk. The race began and ended near the front of McLouth High School. The event had 90 walkers and dozens of spectators and volunteers.
Story and photos by Dennis Sharkey
Last Saturday was exactly one year to the day that the death of Justin Johnston shook the community of McLouth and his family. But his father John had hundreds of reasons to smile.
Saturday was the first Remembering Justin 5K Run and 1 Mile Fun Run/Walk. More than 80 runners and 90 walkers registered for the event.
The turnout was impressive for a first-time event. It was held in conjunction with the 21st Annual McLouth BBQ Blowout.
Although the race had a lot of competition with other events in the area including a popular run in Kansas City Johnston felt it was important to hold the race on his death anniversary.
"We were going to hold the race today no matter what," Johnston told the Independent shortly after the race began.
Johnston hopes what will become an annual event will also become the primary fundraiser for a scholarship fund that has been set up in his son's name. Each year the scholarship will help five McLouth graduates with post-high school education expenses.
Justin Johnston was a successful athlete and would have just completed his junior year. One of the sports Johnston competed in was cross country. The Kansas high school cross country distance is five kilometers.
The Johnstons may finally see justice for Justin. Johnston said a trial date of Aug. 27 has been set for a 35-year-old security guard identified as Jorge Guevara by Costa Rican media.
Johnston was allegedly shot outside the hotel where he and 11 other McLouth students were staying while on an educational trip to Costa Rica at around 4 a.m. local time. He was with another student at the time of the shooting.
Although Guevara is finally facing trial it has been a year of traveling back and forth to Costa Rica to make sure Guevara remained in jail.
The Costa Rican judicial system has many differences from the justice system in the United States. Every six to eight weeks the Johnstons have had to travel back to Costa Rica for court dates and to ensure Guevara was not released. Johnston said it was discovered that Guevara was in Costa Rica illegally from Nicaragua and was a flight risk.
"Everything has been a struggle," Johnston said on Saturday. "Some of these things you would think would be common sense."
Johnston said his family has been fortunate in the way the community of McLouth has rallied behind them during the last year. Many of the trips to Costa Rica would not have been possible without the support.
Johnston said any monies raised in the future will all go to the scholarship fund. For more information visit justiceforjustin.org or search Johnston's name on Facebook. Those interested can also email rememberingjustin@live.com.
Short URL: http://www.jeffcountynews.com/?p=13162
Posted by
Davis Publications
on Jun 12 2012. Filed under
Featured
,
McLouth School District
,
Schools
. You can follow any responses to this entry through the
RSS 2.0
. Both comments and pings are currently closed.