Perry-Lecompton grad lands full-ride KU ROTC scholarship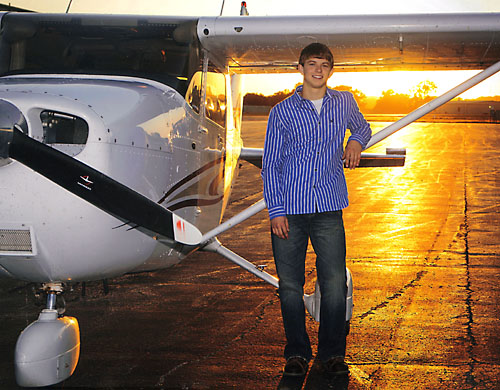 Photo by Rachelle Photography
Dale Hupe's love of flying led to a pilot's license which he earned in April of this year.
by Carolyn Kaberline
Eighteen-year-old Dale Hupe of Perry can't remember a time that he wasn't fascinated by airplanes. That fascination has led to flying lessons, a pilot's license, and an Air Force ROTC scholarship to pay for his full education at the University of Kansas for four years.
A recent Perry-Lecompton High School graduate, Dale could say he has airplanes in his genes: his father Dennis has a private pilot's license, and his grandfather, also named Dale, served in the Marine Air Corps before becoming a pilot for TWA.
Dale's path to the ROTC scholarship began years ago when he began his own lawn mowing business at 10 years of age. Although the business began with only one yard which Dale took care of himself, he now has 25 yards under his care and has hired some of his classmates to help. The money he earned from his business was put to good use last year when he signed up for flying lessons at Lawrence Municipal Airport, earning his license to fly single engine airplanes April 23 of this year.
"I thought I could step ahead with a pilot's license," Dale said. "It shows you really want to do this [fly] since you paid for it yourself."
The actual application process for the scholarship began last fall with visits to both Kansas State University and KU.
"I knew there were some scholarships out there," Dale said. After deciding to try for the ROTC scholarship, he submitted his application before the Dec. 1 deadline. After that he was asked to submit copies of transcripts, lists of extracurricular activities, a resume and cover letter and ACT scores and also to complete a physical fitness assessment.
"I had to do push-ups, sit-ups, and take a mile and a half run," Dale said, adding that Mike Paramore, PLHS physical education teacher and football coach, helped him with the assessment.
In February of this year he was selected to complete an interview at KU with Lt. Col. Montague D. Samuel who oversees the ROTC program at the university. That was followed by an interview with a selection board in early March.
The actual news of the scholarship came in two parts. "In April I found out that I got $900 for books and a $300 monthly stipend," Dale explained.
The news that he had received full tuition to KU came in mid-May.
"I was pretty stunned when I received the letter about the scholarship," Dale said. "I had to read it over a couple of times. My mom yelled, and then cried. I just smiled the whole night."
"He was very unemotional about it [the letter]," his mom Beth said. "He just said you might want to read this."
The scholarships are highly competitive: Although approximately 15,000 high school seniors applied for this year's scholarships, only about 5 percent actually received them.
In all, the scholarship will provide full college tuition, coverage of all fees, a textbook allowance of $900 a year and a monthly tax-free stipend ranging from $300 as a freshman to $500 as a senior. The end result of the scholarship will be a commission as a second lieutenant in the U.S. Air Force after graduation.
"It's awesome to know you have a job guaranteed after graduation," Dale said. While he is currently considering the military as a career—he notes that his great uncle was a two star general with the army and worked at the Pentagon, he also hopes to become a commercial pilot sometime in the future.
To remain eligible for the scholarship, Dale will need to maintain a certain grade point average in college, participate in aerospace studies classes and leadership laboratories in addition to working toward his major in meteorology and atmosphere science. He'll also take part in a training program in Alabama and Mississippi during the summer between his sophomore and junior years.
In the meantime, Dale plans to prepare two steers for the 4-H Fair this summer and to continue working at Lawrence Municipal Airport as a lineman.
"I marshal the planes in, help fuel the planes and other things," Dale explained. "It's not glamorous work, but it's fun because I'm around airplanes all the time. I get to talk to the pilots and find out where they are from."
In addition to the Air Force ROTC scholarship, Dale, who graduated summa cum laude from PLHS, also earned a Perry-Lecompton Endowment Association Scholarship, the Manderson Memorial Scholarship, and a United Methodist Scholarship. Dale also received a citizenship award from the high school.
Short URL: http://www.jeffcountynews.com/?p=13349
Posted by
Davis Publications
on Jun 27 2012. Filed under
Featured
,
Perry School District
,
Schools
,
The Vindicator
. You can follow any responses to this entry through the
RSS 2.0
. Both comments and pings are currently closed.