JCN grad brings helicopter pad to county hospital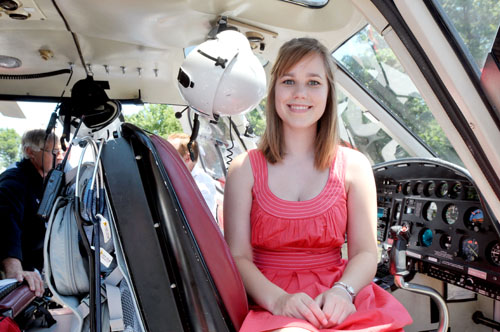 Holly Bodenheimer poses inside the LifeStar helicopter as it sits on a new parking pad.
Story and photo by Holly Davis
Former Jefferson County North student and Winchester firefighter Holly Bodenheimer, 19, presented her senior project in a ceremony at the F.W. Huston Medical Center June 8. For her graduating project last year, Bodenheimer raised money and gathered volunteers to build a helicopter landing pad for the hospital.
A ceremony was held to dedicate the newly built landing pad. Numerous members of the community came together for the appearance of a LifeStar helicopter as it landed on the pad for the first time. The LifeStar crew made a special trip to Winchester for the occasion.
In the past, for a helicopter to land, volunteers would have to stop traffic and clear a path on the K-92 highway. "We realized how unsafe this was for the volunteers. It also just took so long to get everything cleared. I decided this would be a perfect thing to do my project on," Bodenheimer said.
After arranging the project with the hospital, the location of the landing pad was needed to be determined. With a military past and experience with flying helicopters, her father, Jim Bodenheimer, helped decide a safe landing spot. Trees were removed for a clearer viewing path.
In January 2011, Bodenheimer held a bake sale fundraiser at a basketball tournament. All food was donated by Winchester Pride and $900 was made as a profit. She also placed donation jars around local businesses.
Family matters and construction issues delayed the project, but the process began December 2011.
Billy Daniels, plant manager and salesman of Geiger Ready-Mix, heard of the project and decided to donate the concrete and volunteered to build the pad. The Leavenworth company also widened the hospital's sidewalk for better access to roll in a stretcher.
"This is such a fun thing. We're always looking for good causes to help out with and it can't get any better than this. If it saves just one life, it's worth it. I'm just glad to be a part of it," Daniels said.
Daniels was just one of the many volunteers and donators who made the project possible. Organizations and families came together to help out the cause.
Bodenheimer was very passionate about this project because she, along with family members, is part of the medical field. Her father is the Winchester fire chief and her mother is a fire department officer. Both parents are also emergency medical technicians. She has four siblings who have occupations as firefighters, a police officer, and an Army nurse.
Bodenheimer joined the fire department at age 12 because she was interested in the job and was inspired by her dad. At that age, she started a cadet program where she "learned the ropes of the fire station." Although she was too young to have many duties, she learned the basic routine. "It really helped me a lot," she said.
She is now EMR certified as well as a firefighter. "I like the medical side of it. I enjoy going into burning buildings for the thrill, but as a small person, the medical side is easier and better for me," she said.
Throughout her training, Bodenheimer has received many skeptical comments about her gender and size. "Fire fighting is not all about the muscles; it takes brains. I have different techniques and I use my head. I also use different tools and resources. It doesn't matter if you're small or a girl. If you do it, you will earn respect just by trying. I can even fit through small places that others can't!" she laughed.
Bodenheimer wanted to thank all of those who helped out with her project. She stressed that this project was a volunteer effort. "For me, it's not about being recognized because it's a volunteer effort. I like to see how people work together. I just really like helping others," she said.
She attended school at Johnson County Community College this past year and plans to study occupational therapy and family studies at Kansas State University in the fall.
Short URL: http://www.jeffcountynews.com/?p=13244
Posted by
Davis Publications
on Jun 19 2012. Filed under
Featured
,
Jefferson County North School District
,
Schools
,
The Independent
. You can follow any responses to this entry through the
RSS 2.0
. Both comments and pings are currently closed.