As temperatures climb into triple digits, Valley Falls pool gets busy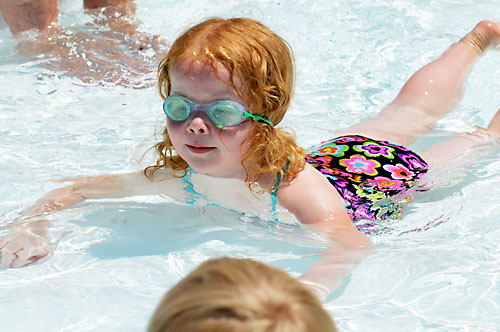 Lauren Thomas, 4, explores the water with her goggles and exclaims, "I think I see something under there!"
Story and photos by Holly Davis
The Kendall Memorial Swimming Pool staff has kept busy this summer with those who have been attending the refreshing getaway in Valley Falls. On average, about 70 people attend the pool daily. This number has decreased slightly due to the reopening of the Oskaloosa pool and summer sports.
"I was worried at first, but I haven't really noticed that big of a difference in attendance," Shirley Allen, manager of the pool, said.
Swimming lesson spots filled up quickly this year, but there is still room for a few more participants, she stressed. The fee for lessons is $25 and will held be from July 9 to 20.
The pool has a total of eight water safety instructors which is the highest it has ever been.
Abbey Kearney, 19, and Kolbie Glissman, 17, have joined Shelbie Glissman, 21, Savannah Chambers, 18, and Hunter Sherretts, 18, as lead guards.
"I always enjoy my staff. Overall, this year's staff does a really good job. They're a pleasant group of kids to work with," Allen said.
In Allen's 17 years with the pool, she has always had new lifeguards until this year, but expects to see some new faces next summer.
On July 4, there will be no charge for those who wish to attend the pool and closing time will be at 5 p.m.
"We close the pool the Sunday before school starts and I can't believe that we're already almost through June. Summer just goes by way too fast," Allen said.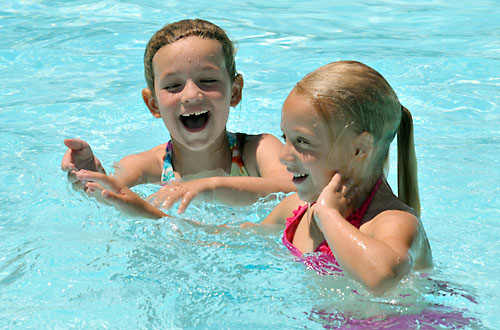 Cousins Korie Kirkwood and Lauren Brown, both 6, giggle with each other as they play a game.
Short URL: http://www.jeffcountynews.com/?p=13358
Posted by
Davis Publications
on Jun 27 2012. Filed under
County News
,
Featured
,
Media
. You can follow any responses to this entry through the
RSS 2.0
. Both comments and pings are currently closed.