Choosing child care is important decision for parents
by Sara Gerety, RN
Jefferson Co. Health Dept.
Choosing child care is one of the most important decisions a parent can make. Quality child care is important to a child's growth and development. Licensing alone does not guarantee quality. You are the best judge of whether a child care facility will be suitable for your child. Parents are encouraged to visit several child care providers. Parents looking for child care can contact ERC, the local Resource and Referral Agency, at 785-357-5171, for a list of local child care providers.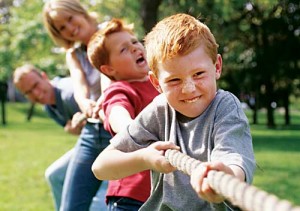 When interviewing a provider, parents should look for any health and safety issues. Is there adequate space for quiet and active play? Is the facility clean, child-proofed and free of hazards? Does the provider interact respectfully with children, using a positive tone of voice and sensitive to their needs?
Find out what kinds of activities for growth and development, toys, and equipment are available for children. Are the toys within the children's reach? Are children in care actively engaged in meaningful play or activities, such as books, puzzles, blocks, and other age appropriate toys? If the TV is on during care, what type of programs would they be watching and for how long?
Parents should ask many questions of the provider, such as discipline policy, emergency procedures, daily schedule, and napping policy. Are parents welcome to make unannounced visits at any time? Smoking is not allowed in the home or facility during hours of operation.
A provider's child care license or certificate, issued by the Kansas Department of Health and Environment, should be posted in a conspicuous place. It will tell you the type of license or certificate held and the maximum number of children allowed in care. Registered Day Care Homes can care for up to six children with no more than three children under 18 months of age. Due to Lexi's Law, providers can no longer apply as a Registered Day Care Home. By July 1 all registered homes will be transitioned to Licensed Day Care Homes.
A Licensed Day Care Home can care for up to 10 children, depending on the ages of children, with no more than three under 18 months of age. A Licensed Group Day Care Home can care for up to 12 children, with a second adult present. A day care home should be either licensed or registered if caring for more than two unrelated children or providing care for more than 20 hours a week total, which includes the hours each child is in care, totaled together.
Parents can contact KDHE by e-mail at ceddins@kdheks.gov or send a written request to: KDHE, Bureau of Child Care Licensing and Regulation, 1000 SW Jackson, Suite 200, Topeka, 66612-1274, to verify whether a child care provider is registered or licensed or to check on the child care provider's past compliance history. Parents can also review child care regulations that providers are required to follow by going online at kdheks.gov/kidsnet.
Concerns such as poor quality of child care, illegal care or over-enrollment, should be reported to the Jefferson County Health Department, 785-863-2447. The identity of the caller may be kept confidential.
The health department contracts with KDHE to perform child care surveys, review child care applications, provide resource information, and follow-up on complaints about child care providers.
Persons interested in providing in-home child care may obtain applications at the department in Oskaloosa weekdays or online at kdheks.gov/kidsnet.
Short URL: http://www.jeffcountynews.com/?p=8796
Posted by
Davis Publications
on Jun 15 2011. Filed under
Women Today
. You can follow any responses to this entry through the
RSS 2.0
. Both comments and pings are currently closed.